O Sole Mio – It's Really Not Italian
by Mariann Grace Lotesoriere
"'O Sole Mio" is a globally known Neapolitan song written in 1898. Some people consider it to be the most famous Italian song, not only because it's an all-time hit that several generations remember, but also because, in a way, it represents Italy.
So what does "O Sole Mio" mean?
A good translation would be "My own sunshine."
The Elvis Presley song, "It's Now or Never" sung to the same tune, is not a translation at all, it's just a different set of words put to the same melody.
Here's the most remarkable aspect of "O Sole Mio," especially for people from other countries who want to learn Italian. O Sole Mio is actually not standard Italian.
"'O Sole Mio" features the original Neapolitan language. Neapolitan is the language of the city of Naples and all the surrounding area in the Region of Campania.
Italian and Neapolitan resemble each other to some degree linguistically. But there are notable grammatical differences such as neuter-form nouns, unique plural formation, and historical phonological developments differing from traditional Italian. However, like Italian and other romantic languages, Neapolitan evolved from spoken Latin roots.
This might shock you, though: the language has no official status in Italy with no priority in education. The Università Federico II in Naples offers courses in Campanian Dialectology at the faculty of Sociology, aiming not to teach students the language, but rather to study its history, usage, literature and social role.
Do You Want to Learn Italian?
If you want to learn Italian, you may want to try some of the free lessons from around the web to see which ones you like the most. Click on this Italian flag to try the Italian program that I like.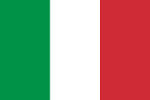 Try it and see if you like it.
"Che bella cosa 'na iurnata 'e sole…" What a beautiful thing is a sunny day!
The words and music instantly and magically transport you back in time to Italy where love and sunshine create a mix of what it means today to be Italian: joy for life! O Sole Mio is a great example of that joy.
How O Sole Mio Began
A journalist and editor of the cultural pages of the newspaper "Roma" of Naples named Giovanni Capurro, supposedly inspired by a radiant sunrise over the Black Sea, wrote the lyrics. In 1898, he entrusted a singer and songwriter by the name of Eduardo di Capua to compose the music.
A Long Way to the Top!
Sponsored by the publisher "Bideri," that song was sent to Naples for a music competition. However, the song received second place without much recognition at all. Nevertheless it soon gained much more success in Italy and around the world, becoming part of the world's music heritage.
The Amazing Repertoire of Performers!
It's sad that the original writers died poor, because many performers in several different genres have made millions since then performing O Sole Mio.
Notable performers include: Luciano Pavarotti, Enrico Caruso, Beniamino Gigli, Mario Lanza, The Canadian Tenors, The Three Tenors, Anna Oxa, Bryan Adams, Me First and the Gimme Gimmes, Vitas, Al Bano and of course Elvis Presley with "It's Now or Never".
This 1960s Elvis Presley version — "It's Now or Never" — sold over ten million copies, making it the most sold song of Elvis Presley's career.
"It's Now or Never", however has just the same melody as "'O Sole Mio", the lyrics are not a translation.
Another famous version of the song made in English was by Bill Haley & his Comets, called "Come Rock With Me". This remake, same as Presley's, has only the same tune.
But Luciano Pavarotti holds the title for best interpretation — hands down.
In 1980 he won the Grammy Award for Best Classical Vocal Performance for his rendition of the song.
Do You Want to Learn Italian?
If you are interested in learning Italian, you may want to try some
Tell Us Your Favorite "O Sole Mio" Story
This song has been a very popular song for a very long time.  If you have a favorite story about how it touched you, please share it below.
Historic Recordings of O Sole Mio
The Library of Congress has a historic recording of O Sole Mio available that you might enjoy.