We are Moving From Subdomains to Directories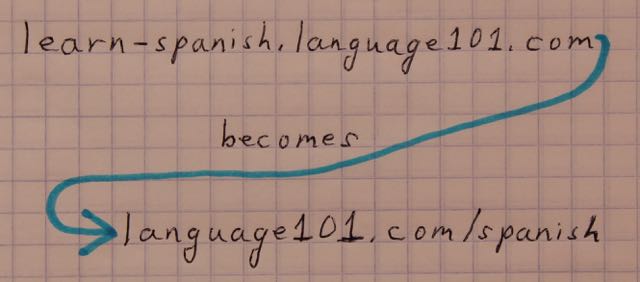 Back when I started Language101.com I made a big mistake. I decided to organize our language lessons using subdomains.
Until today we had URL's that looked like this.
"https://learn-spanish.language101.com/"
Starting today and from now on, we will have URL's that look like this.
"https://language101.com/spanish/"
Why The Change?
It's possible for different subdomains on the same domain to be served from different computers in different countries.  So Google treats every subdomain as if it were a separate website.
In the back of Google's Webmaster tools product, I have 11 different configurations, one for each different subdomain on this site. It's been very difficult to administer.
So we are changing to a directory structure.
This Might Break Something
We have done a lot of testing and it looks like everything is working well.
But it is always possible that we might have broken something that our testing didn't uncover.
If you find anything that looks broken, please use our contact us form to let us know, and we will fix it as soon as we can.